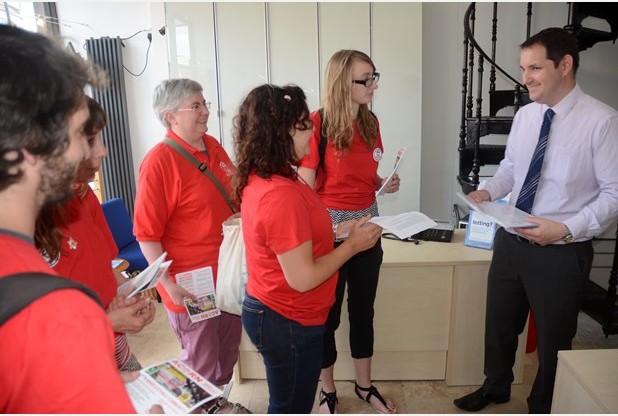 A group of campaigners marched their way around estate agents in Easton on Friday to protest against "unfair" tenancy fees and rolling monthly contracts.
Members of the newly launched Easton neighbourhood branch of ACORN, a community social justice organisation in Bristol, have been canvassing residents to support the campaign and gained 500 signatures in just over a week.
The BS5 area has twice the average number of privately rented homes in Bristol, and generates more than 25 per cent of all complaints about privately rented homes in the city.
ACORN say that most rentals in the area offer only two to six months security and "rip-off" letting agent fees of up to £500 each time they move, leaving many tenants feeling "intimidated" out of complaining or campaigning by the threat of eviction.
The group is now campaigning for an end to tenancy fees, the implementation of 12 month fixed-term tenancy agreements over rolling tenancies and support of longer fixed-term tenancy agreements wherever possible.
The aim of Friday's March was to encourage estate agents in the Easton area to work with ACORN to achieve those goals.
Agents were also invited to "explain themselves" to residents at a public meeting on Thursday July 3. More than 100 people have already registered to attend the meeting and two letting agents have already agreed to come.
Read more at http://www.bristolpost.co.uk/Campaigners-visit-Easton-estate-agents-protest/story-21277964-detail/story.html#wg4V2SLBuGjgLHP9.99